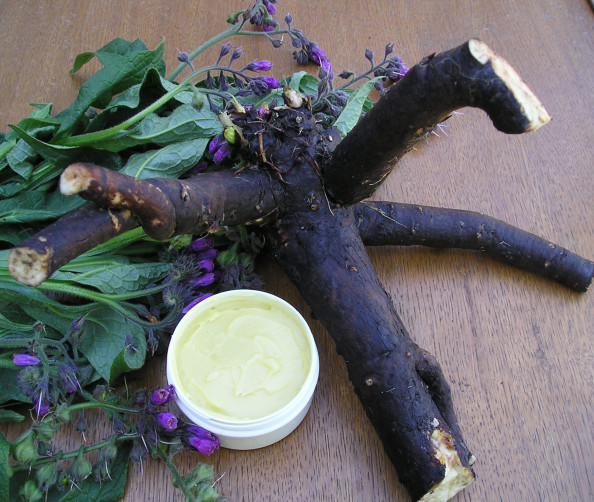 The root and leaves of the comfrey plant have been used in traditional medicine in many parts of the world to treat muscle sprains and pain, bruises, burns, bone fractures, joint inflammations, arthritis and gout.
Comfrey plant contains chemical substances called allantoin and rosmarinic acid. Allantoin boosts the growth of new skin cells, while rosmarinic acid helps relieve pain and inflammation. Extracts are made from the roots and leaves and turned into ointments, creams, or salves. I prefer using the roots instead of leaves because it is more potent.
Comfrey is my favorite herb. Cannot be missed in any of my massage oils and creams, together with arnica and horse chestnut.
The herb also has some other health benefits I am not going to disclose. Using the herb internally or on open wounds may cause some harm.
Other herbs harvested in September:
Elderberry berries: Berries are not poisonous, but in larger amounts can cause diarrhea. Pick the very black and healthy ones. Treats Migraines (juice), has calming effect on Nerve Inflammation and Back Pain ( ischias, bulging disc) Is recommended to drink a tea three times a day. Elderberry leaf oil infusion is great to massage over sore parts of the body.
Juniper berries: it has Antibacterial,  AntiCancer, Anti Rheumatic, Antispasmodic, AntiViral,  Astringent, Depurative and Diuretic properties. It makes it a great remedy for Rheumatoid Arthritis, Bladder Infection, Detox, Cold and Congestion and Gout. Has a Sedative Effect. It is a great Skin Tonic. Can be used for Acne, Eczema and Cellulite as a herbal steam. Juniper berry has to be avoided during pregnancy and when there is a kidney disease.
Horse chestnut: treats circulation problems such as Varicose Veins, Pain, Ankle Swelling, Itching and nighttime Leg Cramping. May lower blood sugar in people with Diabetes. The herb extract might slow blood clotting, increasing the risk of bruising and bleeding in people taking aspirin, ibuprofen, coumadin or other drugs that slow clotting.
Burdock root: is a Blood Purifier, Lymphatic System Strengthener, natural Diuretic and Skin Healer. It also defends against Diabetes, combats Cancer, improves Arthritis, helps treat an enlarged Spleen and fights Tonsillitis. Can be eaten in large quantities as a root vegetable, and is very rich in important fibers.
Please contact me if you have any questions about these remedies or would like more details on the process of making and finding the ingredients. I will be happy to answer any questions you may have.